Bristol bus fare campaign organises hold meeting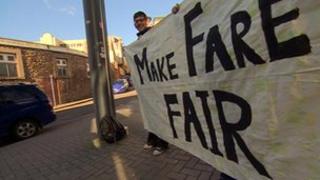 Campaigners urging public transport operator First to reduce its bus fares in Bristol have held a meeting.
It was organised by Bristol North West Conservative MP Charlotte Leslie and Mayor George Ferguson also attended.
First has responded to local concerns saying it was undertaking a review of bus fares and promised to consult the public.
Daniel Farr from Make Fares Fair said he will carry on campaigning until fares are reduced.
"I've just got fed up with the service that First provide and how much they charge," he said, before the meeting with Ms Leslie and Mr Ferguson.
"I decided to try and do something about it and start the petition.
"I'm hoping that at the end of the campaign we see a real reduction in the cost of fares and I won't stop the campaigning until we get that achieved really."
In 2012 Mr Farr started an online petition calling for the price of bus travel to be lowered which has gathered almost 3,500 signatures, including the city's mayor.
Mr Farr also organised a protest outside Bristol's bus station earlier this month.