Plan to ban traffic from Bristol's Corn Street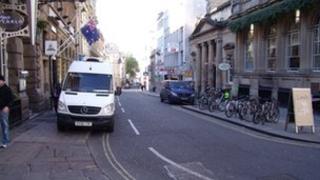 People in Bristol are being asked for their views on proposals to improve the Old City area in the centre.
The proposed changes are part of Mayor George Ferguson's vision for Bristol which he wants to make the "most welcoming city in Europe".
Ideas include removing traffic from Corn Street north of St Nicholas Street to create a "pedestrian-friendly continental environment".
A public workshop takes place at the Old Council House on 26 February.