Bristol church's 'clunking' bell replacement delivered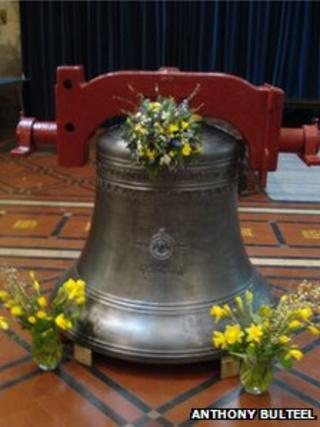 A Bristol church has taken delivery of bell that will replace one which has "clunked" for 110 years.
Although the delivery to St Mary Redcliffe Church was delayed, ringing master Anthony Bulteel said it would still be dedicated during the sung Eucharist service on Sunday.
The bell will then be hoisted into place in the church tower on Monday.
Mr Bulteel said that until then the bell would be on display at the back of the church surrounded by flowers.
The church raised £30,000 to replace its poorly cast eighth bell which has been the weakest of 12 since 1903.
Only one of the original 17th Century bells is still in use at the church.
Mr Bulteel said: "The eighth bell was simply re-hung but, since then, ringers and non-ringers have commented on its poor sound.
"It is noticeable as the fourth note when the church clock chimes. It can be heard every quarter of an hour as a clunk."