Bristol City Council could save £1m in voting change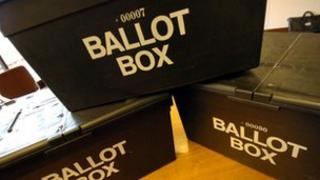 More than £1m could be saved over the next decade by Bristol City Council if it changed how often it holds elections, a councillor has claimed.
The current system sees a third of the council voted in each year.
But Bristol Mayor, George Ferguson, and some councillors want all-out elections every four years instead.
A recommendation will say moving to whole city council elections would provide a cost saving estimated to be more than £1m over the next 10 years.
Councillor Peter Abraham will present the proposal to councillors next Tuesday.
He will recommend the council agrees to switch to all-out elections to coincide with the next election for a mayor in 2016.
Mr Ferguson has said the current system of electing a third of Bristol's council every year is expensive and is a distraction from governing the city.
Increase turnout
Voters currently go the polls twice over a four-year period to elect each one of the councillors for their ward.
A change to whole council elections would mean that all seats on the council would be elected at the same time, once every four years.
Mr Abraham will argue this system will be simpler and more easily understood by the electorate, which could increase turnout at local elections.
Conservative and Labour are set to support the change, but in the past Liberal Democrat and Green councillors have opposed it.
They argue that regular elections keep politicians in touch with what voters want and are therefore more accountable.
For the change to take place, two-thirds of the council must support the motion.