Bristol mayor George Ferguson plans car-free Sundays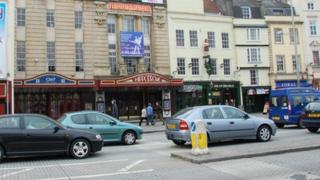 Further plans for part of Bristol to be car-free on Sundays have been revealed by the city's mayor.
George Ferguson says he wants to "liberate" at least half the central area near The Hippodrome and much of the "old city", for people not cars.
He plans to introduce the measures in June, to coincide with Bristol's Big Green Week as part of his 'Let's make Sunday special' plans.
But some businesses in the area were not sure the idea would work.
Nick Licata who owns the Brigstow café, on nearby Clare Street, said he understood where the mayor was coming from.
'Wrong approach'
"We live in the UK, how many days of sunshine do we get? On a wet day people want to park near the amenities," he said.
"It's right to talk about these ideas but this is the wrong approach."
Bristol Disability Equality Forum said it welcomed the initiative if Blue Badge users could park close to wherever they need to go within the pedestrianised zone.
"We would feel it was discriminatory if this was not to be ensured," the forum's Laura Welti, said.
Mr Ferguson believed the plan would work well during the summer but added it would make more sense to run it throughout the year.
He said St Augustine's Parade would remain open the other side of central area and the old town area, to the east of it, would be car-free.
"I've [also] had requests from the Old Vic theatre that King Street should become a pedestrian area - I can imagine theatre spilling out on to the streets and the theatre students using the place for performance," he said
Access to the city centre car parks would remain open throughout Sundays.