Bristol all-out council elections approved by councillors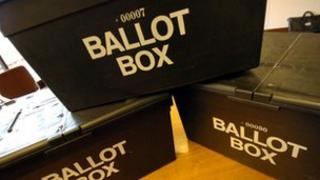 Councillors in Bristol have voted to change the city's voting system to all-out council elections from 2016.
The current system sees a third of the council chamber voted in each year.
Some Liberal Democrat councillors argued that regular elections keep councillors in touch with what voters want and therefore more accountable.
However, it was decided at an extraordinary meeting earlier to scrap the system in favour of whole council elections every four years.
Councillors voted 46 to 12 in favour of switching to all-out elections to coincide with the next election for a city mayor in 2016.
'Increase turnout'
The proposal was presented by councillor Peter Abraham, who argued the current system of electing a third of Bristol's council every year was expensive and a distraction from governing the city.
According to Mr Abraham the estimated cost of voters going to the polls twice over a four-year period is £3m over the next 10 years.
But a change, with all council seats elected at the same time once every four years, would see savings "possibly in excess of £1m over 10 years".
Mr Abraham also argued that the new system would be simpler and more easily understood by the electorate, which could increase turnout.
The current system of election will continue for 2013, 2014 and 2015 before the new system is introduced.