Bristol's John Wesley Chapel in £1.5m extension bid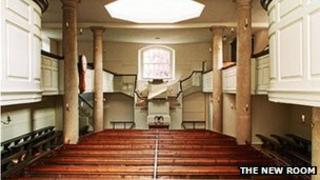 A £1.5m fundraising campaign is being launched to update the world's first Methodist chapel in Bristol.
The New Room was built in 1739 by the founder of the Methodist Church John Wesley.
Manager David Worthington said plans included a three-storey extension to house the library and offices so more of the chapel could be opened up to the public.
The official project launch will take place on Wednesday 13 March.
Mr Worthington said: "It will mean there will be less pressure and stress on the existing building because the new building can take that extra slack."
The extension would also mean more space for education and training classes.
The extension would be built on the Horsefair Courtyard. The statue of Charles Wesley would also be given a more prominent place within the existing courtyard.
The hope is to secure money through fundraising and by making applications to grant-making organisations such as the Heritage Lottery Fund.