Bristol residents' parking zones scheme to expand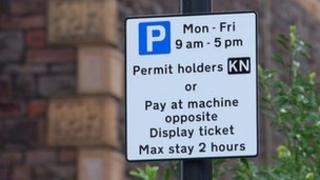 Plans to widen the coverage of the residents' parking scheme in Bristol have been proposed by the city's mayor.
George Ferguson said the subject of parking had become an urgent problem for some residents and the issue needed to be sorted out.
He added that there was "no human or civil right" for commuters to be able to park on the streets "unlike what some people think".
If approved, the additional areas will be introduced from September 2014.
Mr Ferguson told BBC News it was "silly" to eke out the schemes because every time a new one was introduced it caused problems on the edges of that zone.
'Every space filled'
"The residential areas have become car parks for commuters and that's not acceptable in a city," he said.
"We work really closely with the living and working community to make sure we have a scheme that is adjusted to their needs."
Residents' parking zones are already in place in the Kingsdown, Redcliffe and Cotham areas of the city and a consultation is running for Easton and St Phillip's.
Brian Worthington, chairman of the Clifton and Hotwells Improvement Society, said it felt commuters were "taking advantage" of the area.
"At 7.30am pretty much every space is filled with commuter parking in Clifton," said Mr Worthington.
"There needs to be much more public transport available so you are not being vindictive to commuters and not appearing to [be] vindictive to residents."