Social housing tenants in Bristol electing to stay put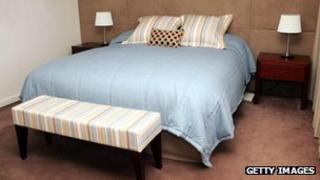 Many social housing tenants in Bristol who are facing benefit cuts as part of the government's changes to benefits are electing to stay put.
Bristol City Council said early indications are that 80% of its tenants are not planning to move when the changes come into force from April.
The government wants people to move to smaller homes if they have a spare room or have their benefits reduced.
Ministers say the move is needed to cut the £23bn housing benefit bill.
Council tenant Stephen Gauge, lives alone in a two-bedroomed maisonette in Kingsdown.
"I've suspended plans to redecorate because my future's not secure... I've also got to apply for a discretionary fund application [to be able to stay in his home]," he said.
'Not evicted'
"But I think they only allocate a year or so and then I'll be confronted by exactly the same situation as I am now."
Kate Webb, from the housing charity Shelter, said there were not enough smaller homes for people to move into.
"If you want to downsize and the property is not there... it's unfair to penalise them," Ms Webb added.
Earlier this week the city's elected mayor, George Ferguson, said council tenants will not be evicted following changes to housing benefits until "a sustainable way forward" is found.
An estimated 3,700 of the council's 28,000 households are likely to be affected by the changes.
Elsewhere, in Bath and North East Somerset an "overwhelming majority" are choosing to stay put as are one-in-three households in North Somerset, according to figures gathered by local authorities.