Clevedon Pier wins top spot by National Piers Society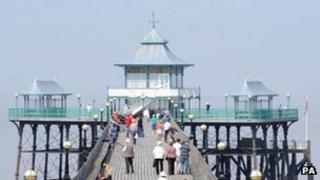 Clevedon Pier in North Somerset has been named Pier of the Year.
The Victorian structure came first in an annual poll by 750 members of the National Piers Society who commended its design and simplicity.
Clevedon is the only intact Grade I listed pier in the UK, stretching 259m (850ft) into the Bristol Channel.
Pier mistress Linda Strong said it was "very exciting news" for Clevedon which beat Cromer, in second, and Llandudno, third, to the top spot.
Society members said Clevedon Pier was "elegant in its simplicity" and "a real gem".
Plans by the Clevedon Pier and Heritage Trust to build a £1.6m visitor centre have been approved by North Somerset Council.
Fundraising 'impetus'
The trust has received £720,000 from the Heritage Lottery Fund and £500,000 from the Coastal Communities Fund.
Commenting on the award Ms Strong said: "This is very exciting news and will give added impetus to our fundraising appeal for the new Centre."
Built from discarded railway track used by Isambard Kingdom Brunel on the Great Western Railway, the pier cost £12,000 when it opened on Easter Monday in 1869.
When the owners got into financial difficulties its largest shareholder, Sir Arthur Elton, bought the pier for £700 and donated it to the local council.
The pier's popularity peaked at the end of the 1950s but in 1970 two outward spans collapsed into the sea and the pier remained shut for years.
The preservation trust was formed and the pier re-opened in 1989 with full restoration completed in 1998.