With a mayor in charge in Bristol, why bother voting?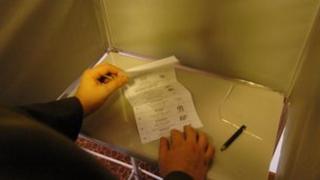 Bristol voters could be forgiven for suffering from election fatigue.
After a referendum and then elections for a mayor and police commissioner last year - Bristolians are once again being invited to the polling station to elect a new generation of councillors.
But with an elected mayor now in charge at City Hall until 2016, what difference will the changing faces on council benches actually make?
The mayor, George Ferguson, is all-powerful and should one party win all 23 of the seats up for election - then he would still remain in complete control.
Corridors of power
Even Mr Ferguson's cabinet is ultimately an advisory body with the final say always resting with him.
You notice the difference on the campaign trail. This time round there are no manifesto launches as parties know they simply can't deliver on them.
The talk is instead of pledging to lobby on issues like transport and housing.
You'll also hear about ambitions to become your "ward champion" with the focus now on who can best reflect their local area.
Pete Wearden, a politics lecturer at the City of Bristol College who opposed the appointment of a mayor, worries councillors are being sidelined in the corridors of power.
He said: "I think the problem with the mayoralty is that it further weakens the influence of locally accountable councillors.
"It takes a much bigger majority to stop the mayor doing what he's decided to do and councillors really are now reduced to dealing with individual cases from the wards rather than actually making policy. This will simply make the city even less democratic."
But Professor Robin Hambleton who specialises in City Leadership at the University of the West of England insists councillors do still serve a purpose - even if the top job is now taken.
'Very low turnout'
He said: "The mayor can't do everything, they need a lot of leadership around them - so I think councillors have an important role - partly to represent their wards and express views, partly to help develop policy for the city which is important, partly to hold the mayor to account.
"And then in addition there's partnership working which has grown in local government and I think councillors can help in that role too.
"I do hope people will come forward and vote - if we have a very low turnout, that would then weaken the whole democratic system in the city."
Turnout in the mayoral elections last November was a mere 28% - low by council election standards - so there are fears that on 2 May the number of voters may drop further still.
But the new political arrangements have not deterred candidates from wanting to join the council - 122 are competing across the 23 seats up for election and voters will be able to choose between Tories, Labour, Lib Dems and Greens in every seat.
New political age
There are also 14 from the party Trade Unionists and Socialists Against Cuts, eight from the new group Independents for Bristol, six UKIP members and two from the Birthday Party.
Mr Ferguson, an independent, has decided not to align himself behind any party or candidate but is keen to stress the importance of voting in this new political age.
He said: "It's a great job being a councillor, beating the drum for your local ward and working with local people and telling me what is missing and what's going wrong.
"So I have absolutely no doubt that it is worth voting and the cynicism of "whoever you vote for, the council gets in" is not true anymore. The council really matters."