Measles jab take-up in Bristol one of lowest in the South West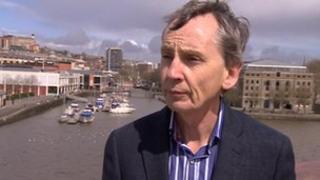 A low uptake in measles jabs in Bristol is putting people at risk and is a cause for concern, a former head of public health in the South West said.
Prof Gabriel Scally said a programme of catch-up was needed to protect the people who had not had the MMR jab.
He said the vaccination programme in south Wales was working particularly well but in England it was very unclear who was taking the clinical lead.
The take-up in the city was one of the lowest in the South West, he added
The professor of public health and planning at the University of the West of England said the outbreaks elsewhere "must be a cause for concern".
"There was a big dip in immunisations because of a completely unwarranted scare [in the late 1990s], and now we are putting people at risk not just those who haven't been immunised, but also people who can't be immunised, and we need to keep the immunisation rates up.
"We need a very active programme now of catch-up so that all those young people who haven't had MMR can get MMR and protect themselves and protect their community.
"One, there's a need for urgent action ,and two, some of the changes that have put in place really aren't suitable for coping with this sort of problem when it arises."
Measles is caused by a virus that is spread by droplets.
It is passed on through direct contact with someone who is infected, for example by touching or kissing them, or through breathing in contaminated air.