Hydrogen-powered passenger boat takes to Bristol's waters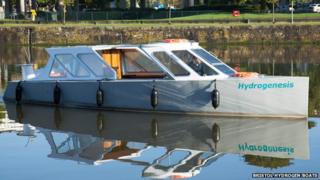 A hydrogen-powered passenger boat has begun operating in Bristol's harbour.
Commissioned for the city council's Green Capital initiative, Hydrogenesis operates 45-minute trips between the Arnolfini and the ss Great Britain.
Keith Dunstan, director of Bristol Hydrogen Boats, says the vessel is the UK's first hydrogen fuel-celled boat.
The 11m (36ft) 12-seat vessel had been due on the water last weekend but a technical fault caused a delay.
The vessel, which cost £225,000 and produces no emissions, is starting a six-month trial in the city docks.
It was designed and built by Bristol Hydrogen Boats, a consortium of local ferry operators and Auriga Energy Ltd.
'Fingers crossed'
"This has never been done before. This is the UK's first hydrogen fuel-celled boat," said Mr Dunstan.
"We've had quite a few technical problems along the way but we've overcome them all and we're ready to go right now.
"We've been looking forward to this moment when we can actually say it's running and carry passengers.
"We've been running for a while, trialling it and making sure things are running properly. But I think it's finally ready to go, so we're going to keep our fingers crossed."
Mr Dunstan said a specially commissioned fuel station had been built to create hydrogen to power the ferry.
If the scheme is financially viable, Mr Dunstan hopes it can be extended with the long-term aim to produce its own hydrogen.