Car-free Sundays in Bristol to start in June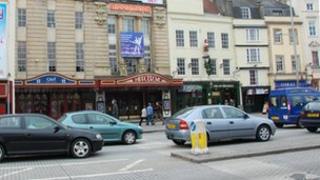 Car-free Sundays in Bristol's city centre will start in June, the mayor has announced.
George Ferguson said the idea was not about "closing roads but opening them to people" and said he hoped to see "entrepreneurial activity".
The scheme was originally due to run weekly but will run once a month due to operating costs of £195,000.
Baldwin Street, King Street and all roads in the Old City will be closed during car-free Sundays.
Mr Ferguson said five days were planned this summer, with the first on 23 June. The £195,000 cost covers all five days.
'Suck it and see'
He said he had been inspired by similar schemes in Bordeaux in France and Bogota in Colombia.
"I'm very keen on taking a 'suck it and see' approach and this is why we're starting on a monthly basis - if it's a success we'll move it into a weekly basis," Mr Ferguson said.
"I want people to feel their way and see how they to respond to it.
"It will have some costs in the early stages while we set it up, but in time I hope it becomes a natural thing with a very low cost."
He added the money would pay for marshalling the road closures and also to provide some of the entertainment.
Blue badge spaces
People will still be able to drive in to the city as there will be routes to the main car parks, Mr Ferguson said.
He also said there would also be provision for disabled drivers and public transport would be largely unaffected.
"I don't think you can close it [the city centre] off completely but I think we can make a large amount of it pedestrian or certainly mixed use," Mr Ferguson said.
Nick Licata who owns the Brigstow Cafe on Clare Street said he preferred the monthly plan to the original weekly idea.
He said: "I think if it remains as a Sunday special thing, if it remains once a month - then it will work.
"But we don't want this leading into a long term plan of banning cars from the city centre."