Man dies after falling into water in Narrow Quay, Bristol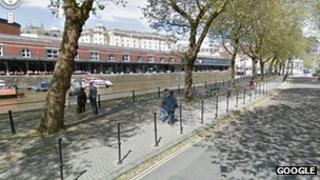 A man has died after being pulled from the harbour near Bristol city centre.
Emergency services were called to Narrow Quay in the early hours of Sunday following reports that a man was struggling in the water.
An Avon and Somerset Police spokesman said the man was taken to hospital but died later.
"The man had nothing to identify himself and no-one with a similar description has been reported missing," the spokesman said.
"The body is that of a white man believed to be in his late 20s, of medium build with a light brown full beard and light brown short hair.
"He has an earring bar in the top of his right ear and was wearing a black Superdry jacket with a black t-shirt underneath, green-coloured jeans and black Dr Marten-style boots with handwritten pictures on them."