Bristol teacher John Alway accused of abusing schoolgirls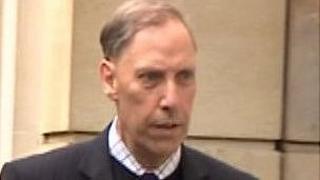 A supply teacher sexually assaulted girls as young as nine while working in a number of primary schools in Bristol, a jury has been told.
John Alway, 60, is charged with one count of attempted rape and 22 sexual assaults against eight girls.
Bristol Crown Court was told the incidents were alleged to have been carried out at four separate schools.
Mr Alway denies the allegations, which are said to have taken place between 1997 and 2004.
'Feeling sick'
The court was told nine-year-old girls in a class Mr Alway was teaching were brought forward to his desk and had their backs and bottoms felt by him.
One 18-year-old witness giving evidence said Mr Alway "squidged" her bottom.
Another girl was told to sharpen pencils while sat on his lap in a locked and empty classroom.
She was then allegedly stripped naked and laid on the floor with the defendant lying on top of her while he sexually assaulted her.
Other girls alleged they were "touched inappropriately" during PE lessons.
One said she recalls "feeling sick" if Mr Alway was teaching that day.
The trial is expected to last for several weeks.