Teenage cancer centre in Bristol appeals for further £1m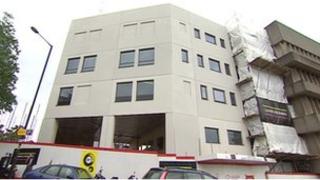 A £2.5m cancer unit for teenagers in south west England is appealing for further funds in order to open in 2014.
The unit, being built in Bristol, is to allow young cancer patients to undergo treatment with others their own age.
The Teenage Cancer Trust has already raised £1.5m but needs a further £1m before it can open.
Snooker player Jack Lisowski, a former cancer patient from Gloucestershire, said the new unit would have made his life "so much more bearable".
The new specialist unit has been "tailored to the needs" of young cancer patients aged 16 to 24 from Bristol, Bath, Devon, Cornwall, Somerset and Gloucestershire.
Sited at the Bristol Haematology and Oncology Centre, on St Michael's Hill, it will include a pool table, jukebox, gaming equipment, a quiet room, TV room and kitchen.
'Share experiences'
According to the trust's Laura Scowen, young people are currently being treated for cancer on either children's wards or adult wards.
"Neither of those environments is the right place for a young person to be," she said.
To help it meet its £1m target, the trust has launched an appeal for 1,000 people to raise £1,000.
The appeal is being backed by Mr Lisowski, a professional snooker player, who was diagnosed with Hodgkin's lymphoma at the age of 16.
"I was treated on an adult ward and the majority of patients were 70," he said.
"In about a year of treatment I only saw one person who was under 30 so there was no one you could relate to and I wasn't able to share my experience with anybody else my age.
"So seeing the plans for the new building - makes me jealous because it would have made my life so much more bearable."