Redfield pub disorder leads to 20 arrests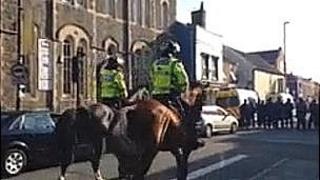 Twenty people were arrested after disruption at a pub in Bristol on Saturday.
Police said about 40 people had gathered at the St George's Tavern in the Redfield area of the city following a march earlier in the day.
Two of the 20 were arrested on suspicion of violent disorder and others over public order offences.
No-one was seriously injured and there was no substantial damage to the pub, Avon and Somerset Police said.
Dep Ch Con Rob Beckley said: "Peaceful protest is acceptable but we won't tolerate criminal or anti-social behaviour towards any members of our community.
"We had to take some positive action to put a stop to behaviour that was criminally offensive to others."
Supt Mike Prior said: "People were out collecting for the Help for Heroes campaign but these people who stayed on at the end of it weren't really connected with that.
"They were just drunk and trouble makers and seeking a bit of confrontation with the police and anyone else who was available, that's why the police stepped in to contain the situation."
'False rumours'
Sue Mountstevens, the Avon and Somerset Police and Crime Commissioner, said she had been told about 80 people had been "marching raising money for Help for Heroes" ahead of the "unrest".
"We were aware of the march that was going to be happening in Kingswood and there was obviously a concern it could get out of hand but it was a very small group of people that got out of hand," she said.
"But it was not helped by a lot of false rumours going around on Facebook and Twitter making it out to be much more critical then it was."
A South Western Ambulance Service spokeswoman said "one male patient with a head injury" was taken to Bristol Royal Infirmary.