Bristol-wide parking permits for traders considered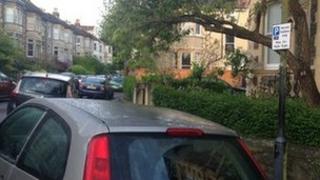 A city wide parking permit is being considering for traders if 18 residents' parking zones are rolled out across Bristol.
It follows widespread criticism of Bristol's mayor's plans by the business community last week.
A committee of councillors have also criticised "the extent and speed" of the proposed roll-out.
But George Ferguson insists the plans must happen to reduce congestion on the city's streets.
Transport officers are also considering introducing cheaper business permits for smaller firms.
Councillor Mark Bradshaw, the cabinet member for transport, said: "I am very keen that the business community helps us shape the solutions to problems that businesses have been raising with us.
"It is important that they have a clear say in how those measures are shaped and the city wide mobility issue is something that has been raised loud and clear with us."
At present the scheme operates in the Cotham, Kingsdown, and central areas of the city.
Mr Ferguson has said he wants to roll out 18 residents' parking zones (RPZ) within the next 18 months.
Last week Mr Ferguson deferred the final decision until the end of June, saying he was prepared to adjust the scheme following further consultation with residents and businesses.