Bristol Fareshare free lunch highlights food waste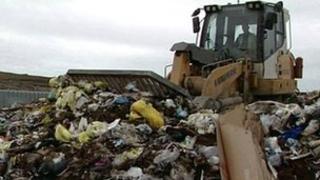 A free lunch is being held in Bristol later to highlight the amount of food waste that is sent to landfill.
Organisers aim to feed thousands of people with food that would be normally thrown away but is still safe to eat.
Fareshare, which is behind the Feeding the 5,000 event being held at College Green, said it was "scandalous" that food poverty and food waste was growing.
The charity gives food to more than 100 projects across the South West.
Fareshare project director Jacqui Reeves said: "There are a massive amount of people living in food poverty and a massive amount of food going to waste.
"What we're trying to do is highlight the issue that this food shouldn't be wasted and should be given to people living in food poverty."
According to the Food Policy Council, 16% of people in the region live in food poverty.
Defra guidelines have defined food poverty as "the inability to afford, or to have access to, food to make up a healthy diet".
The event has been supported by Bristol City Council and the lunch will be prepared by chefs from local restaurants.