Ashfield Young Offenders Institute to lose 194 posts in role change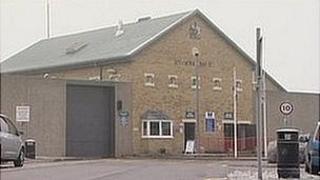 Nearly 200 jobs are to be cut as part of plans to change a young offenders institute in South Gloucestershire into an adult prison housing sex offenders.
Serco, which runs the Ashfield facility in Pucklechurch, has announced it will be reducing the workforce from 391 to 197 following the "change of role".
The move to change it to a Category C prison was announced in January as part of government prison service plans.
The change of role will take place on 1 July.
Ashfield had previously held young offenders aged from 15 to 18 who were detained or were on remand but the last youth left the facility at the end of May.
A spokesman for Serco said the National Offender Management Service (NOMS) had now confirmed Ashfield would become an adult male Category C prison for "400 low and medium risk male adult sex offenders".
"Because of this change of role, we have started a consultation with our employees and their representatives at Ashfield," he said.
Redundancy 'last resort'
"The number of staff required is significantly less as the new adult population does not require the same levels of supervision nor will there be a requirement for the current high number of teachers."
But he added the company would be "exploring every avenue" to help its staff and compulsory redundancy would be a last resort.
A spokesman for the National Union of Teachers (NUT) said although the union did not have any members working at Ashfield, it "regrets any reductions in the opportunities for effective rehabilitation of offenders".
He said teachers, trainers and other education workers have a "vital" role to play in the process, and "without gaining the skills and abilities teachers can provide, we cannot expect reductions in the numbers of people reoffending".