Airport 'rat-run' to remain open during water work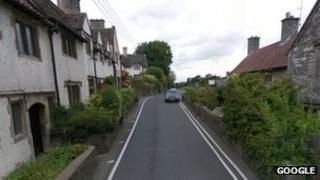 A busy commuter route from the A370 to Bristol Airport, which was due to be closed for six months for "essential" water work, is now to remain open.
North Somerset Council has reversed plans to close the B3130 through Barrow Gurney as part of Bristol Water's Chelvey to Barrow renovation scheme.
Barrow Street will now be kept open using traffic lights.
The works are part of a £22m project to renovate 60km (37 miles) of water mains in the area over the next three years.
Despite the council u-turn, a Bristol Water spokesman did acknowledge that the road will need to be closed at some point when "there is insufficient working width available for work to be carried out safely".
"There are also traffic lights on the A370 so it was felt that closing Barrow Street would put too much pressure on the road network and it was better to keep it open using traffic management," said a council spokesman.
"We are working with Bristol Water and monitoring the traffic situation at peak times."
The road was due to be shut this month until 3 December.
Bristol Water said the work was needed to "improve water quality and ensure the security of water supply for the future".
The Chelvey to Barrow project involves renovating two water mains connecting Barrow Treatment Works to Chelvey. The two-part project began in July 2012.