New group tackles hate crime in Bristol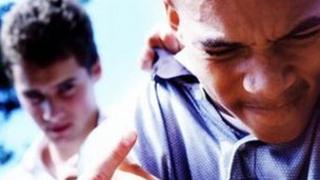 Hate crime in Bristol is set to be better tackled with the creation of a new £600,000 three-year project.
The money will be used to employ more case workers to help victims and also carry out educational activities to raise awareness of the issue.
Four charities will work together in the project led by Stand Against Racism & Inequality (Sari).
Alex Raikes MBE, of Sari, said: "We can hopefully reach a lot more people this way and do more activities as well."
Other work includes holding community work in areas where crime is an issue, such as Frogmore Street, where homophobic crimes have been reported.
Share expertise
Sari will work with the Brandon Trust, which works with people with disabilities, mental health charity Bristol Mind and the Lesbian Gay Bisexual & Transgender Forum Bristol (LGBT Bristol) to carry out the work.
They plan to train more staff at the charities' drop-in centres.
For the past three years, Avon and Somerset police has reported an average of 1,600 hate crime incidents a year.
Det Ch Insp Pete Highway, a specialist in areas of hate crime at Avon and Somerset police, said: "Certainly disability hate crime is something we are keen to learn more about as we feel it is massively under-reported."
Funding has come from Safer Bristol, a partnership of public bodies including Bristol City Council, Avon and Somerset Police and the NHS.