Almondsbury farmland earmarked for £6m surfing lake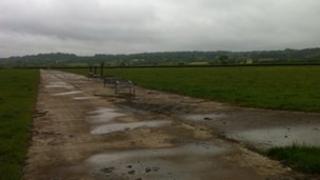 A £6m artificial surfing lake could be built on farmland near Bristol.
The company behind the project said it had "agreed terms" over a 40 acre site to create a freshwater lagoon which could generate "perfect surfing waves".
The Wave wants to build the facility on land at Over Court Farm in Almondsbury and Washingpool Farm in Easter Compton.
It said it had been in preliminary discussions with South Gloucestershire Council and planned to start consulting with local residents shortly.
'Not nasty developers'
The firm said it would be "joining forces" with an outdoor activity centre which already has an established business at the site.
It said the lake would be suitable for both beginners and experienced surfers generating waves of up to 1.5m (5ft) high.
Nick Hounsfield, from The Wave, said: "We're not nasty developers coming in and putting a blot on the landscape and then disappearing off with profit.
"We're very keen to do something that the community gets buy-in on and helps with the long term legacy building of it.
"We're genuine about that, we're Bristol people and we want to be here forever."
The firm said it would take about three months to dig the lake and a company based in San Sebastian in Spain would create the technology needed to make the waves.
Mr Hounsfield said he hoped the complex would be up and running within two years.
A spokesman from South Gloucestershire Council said: "The company has approached the council about its business venture but no formal planning application has been submitted at this stage."