Giant crocheted doily made for Bristol Mayfest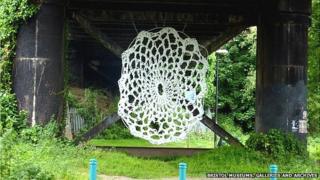 A giant crocheted doily which appeared under a railway bridge in Bristol was commissioned as part of a one-day outdoor theatre event, it has emerged.
The 12ft (3.6m) diameter "spider web" underneath Stapleton Road railway bridge was created by two artists working with people from the area.
It was commissioned as part of the Hook, Skip, Repeat event organised by Theatre Bristol and Mayfest.
The work was made using rope and a giant crochet needle.
It is one of a several large-scale rope structures set to appear around the city.
The artists - Heidi Dorschler and Jeremiah Krage from Cornwall - invited passers-by to help them weave the doily.
"It's hugely important to us to work in spaces and venues outside of the city centre and this opportunity was too good to pass up," said Matthew Austin, co-artistic director of Mayfest, the city's contemporary theatre festival.
The event was funded by Stapleton Road Working Group.
The group was set up in February 2011 to tackle the negative perception of the road and to bring together residents and traders to improve the neighbourhood.