Bristol residents' parking: Council votes to defeat mayor's plans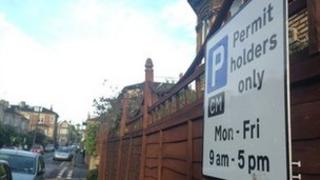 The mayor of Bristol has suffered a defeat after councillors voted for a halt to the roll-out of residents' parking zones (RPZs).
A proposal that George Ferguson works with all parties to produce a phased approach was voted down by 49 to two.
His consultation received heavy criticism at a full council meeting and councillors demanded that residents be able to opt out of the scheme.
However the vote is symbolic. It is not known whether the mayor will accept it.
Mr Ferguson has always insisted that residents should not be able to opt out as it would lead to increased parking in the areas not included.
'Illiberal measure'
He has previously said he wants to roll out 18 residents' parking zones within the next 18 months.
At present the scheme operates in the Cotham, Kingsdown, and central areas of the city.
A debate at City Hall was sparked after 6,055 people signed a petition against the expansion plans.
Author of the petition, Michael Owen from Redland, introduced the debate by saying RPZs are damaging to residents, businesses, employment and community life.
He called the idea an "illiberal measure that constrains rather than sustains Bristol" and wants to see it scrapped.
Conservative councillor Mark Weston proposed the motion that the council believes the rollout is flawed.
"We therefore propose that the mayor halts the process, to meet with an all-party working group in order to produce a more gradual phased approach with greater consultation and input from local residents and businesses," he said.
Nine councillors abstained from the vote.