Bristol mayor considers low-emission zone to cut pollution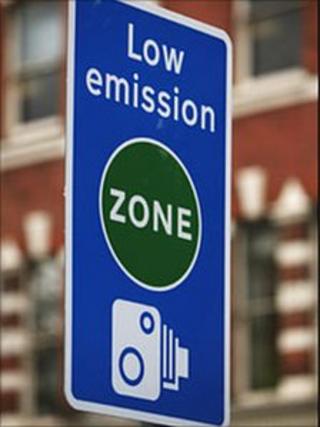 A low emission zone to improve Bristol's air quality, which currently exceeds EU pollution levels, is being considered by the mayor.
George Ferguson said diesel-powered lorries and buses that have high emissions could be banned from driving into the city.
Low emission zones (LEZ) have already been introduced in London and Norwich and are being considered in Oxford.
Mr Ferguson said it would be "irresponsible" not to look at LEZ.
He said: "Bristol should be considering bringing in the zones if we're going to meet the air quality requirements of the EU, which are not unreasonable and that we're not currently meeting."
Electric vehicles
Mr Ferguson said one possibility would be for lorries to deliver goods to places on the outskirts of Bristol before the cargos are taken into the city by other means of transport.
"We do have an opportunity at Avonmouth - a transfer station that would enable us to bring food in smaller electric vehicles. But it's a bother to supermarkets so they don't want to do it. "
He said there would "not be a charge" but a "ban on high-emitting vehicles". He said a penalty would apply if "they flaunt the regulations".
Mr Ferguson said he had also been talking to taxi companies.
He said: "It would mean converting a lot of our taxis into cleaner fuel. There are lots of possible ways we could massively reduce the emissions we have on the vehicles that are essential to this city."
Ian Gallagher, from the Freight Transport Association, said: "I don't think Bristol will actually achieve what it's setting out to do by implementing a low emission zone.
"There are alternatives to just looking at a low emission zone in isolation. Our vehicles are operating at quite a high level Euro standard anyway, because that's what Europe has dictated.
"We need to have that discussion with Bristol to find out exactly what level they are talking about bringing in."
Professor Jim Longhurst, director of the Air Quality Management Centre at the University of the West of England, said: "This is not a new problem - this has been going on in our city for over a decade or more.
"Here is a useful solution to part of the problem but it's not going to solve all of Bristol's air quality problems. But it is a useful start. The problem is there are too many vehicles trying to use too little road space."
The UK has been told by the EU that air quality must be improved, or it will face fines.