Bristol parking zones: Mayor asks for consultation extension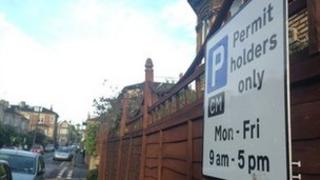 The mayor of Bristol has asked for a further month to consider where the outer boundary of his planned residents' parking zones might fall.
It follows criticism by councillors and residents over the roll-out of the zones and the consultation process.
George Ferguson wants to see 18 residents' parking zones in place within the next 18 months.
But, his proposals were voted down earlier this week by 49 to two.
At Tuesday night's council meeting his idea received heavy criticism and councillors demanded residents be able to opt out of the scheme.
'Not profit-making'
The debate had been sparked after more than 6,000 people signed a petition against the plans.
Mr Ferguson has always insisted residents should not be able to opt out as it would lead to increased parking in the areas not included.
The city's elected mayor said he is "listening respectfully" to the people making helpful suggestions.
"I'm one to press ahead as fast as possible with those areas where it is an absolute no brainer," he said.
"We may pause a little for a month and consider all the issues that came up at that debate for the wider area.
"Nothing has yet has come up in any way to put me off the principle."
Mr Ferguson added he is still very keen to proceed with the Cotham and Clifton RPZ schemes and confirmed "unequivocally and categorically" that it was not profit making and that it will take years to pay back costs.
Ten million pounds is due to be signed off to pay for the roll-out zones next Thursday.