Anne Deeming's Bristol street art stolen and damaged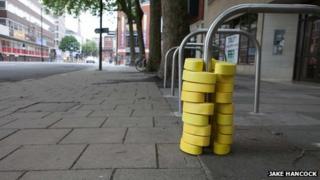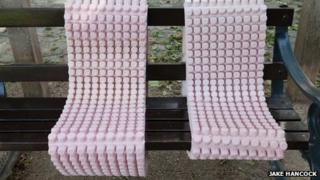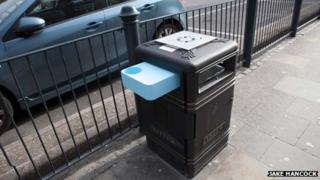 Some recently-installed artwork on street furniture in Bristol has been stolen and other pieces damaged.
The work on benches, bike racks and bins in the city centre, was installed by local artist Anne Deeming on Friday.
Hand in Glove, a group of artists and curators supporting the project, said it was "not wholly negative" as they were interested in the public's reaction to the art.
Six of the 12 pieces currently remain in place.
The bench works in Queen Square and Victoria Street are thought to have been the first to go missing.
Bike rack works and bin adornments in nearby streets have also been either damaged or stolen.
'Sealed or stuck'
The sculptures were part of Ms Deeming's I Didn't See You There project, and she plans to repair and replace the damaged pieces soon.
Vickie Fear, from Hand in Glove, said: "The sculptures, although secured to the street furniture have not been 'locked' to make them permanent but instead sealed or stuck.
"This is the first project of this type we have produced and we have been continually discussing with the artist how she felt about the possibility of works being stolen or damaged.
"The project is partly to investigate people's reactions to public art, so to find out that passers by like the sculptures so much they want to take them home is not wholly negative - we just weren't expecting them to disappear so quickly."
Ms Deeming was inspired by abandoned clothes on benches, and bike locks.
The project was paid for through crowdfunding, with more than £1,000 raised through public donations.