Bristol RPZ: Eight areas removed from mayor's plan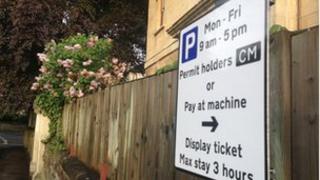 Major changes to a proposed blanket roll out of residents' parking zones in Bristol have been announced.
Mayor George Ferguson originally wanted to implement the controversial plans within the next 18 months.
But his original idea received heavy criticism and councillors demanded residents be able to opt out.
Schemes for Ashton, Bedminster West, Windmill Hill, Totterdown and Bishopston, Ashley Down, St Andrew's, and St Werburgh's will be put on hold.
Plans for these areas will not go through the formal stages until the effect of the inner schemes is known.
Mr Ferguson said he would still consider making the eight outer areas the subject of traffic studies, including assessing any displacement of commuter parking problems.
But none of them would be advanced without a fresh report for decision by the mayor.
'Other contentious stuff'
Conservative councillor Mark Weston, chair of the transport scrutiny commission, said he "applauded" the mayor for "trying to get on with it" but that it had all been "horribly badly handled".
He said: "If he had just spoken to people about how to deliver this quickly rather than just charging ahead and announcing it on Twitter, then maybe we wouldn't be in this mess.
"We're now in our third stage of re-writing this. He's certainly not smelling of roses now.
"If we're honest, this is contentious for parts of the city. There is actually some other contentious stuff that's coming down the line from him.
"A speed limit across the city of 20mph, congestion charges possibly - this isn't even the most contentious thing on his plate and it's just been horribly badly handled."
At present RPZ operates in Kingsdown, Cotham and central areas of the city.