Avon Gorge pre-work assessment costs agreed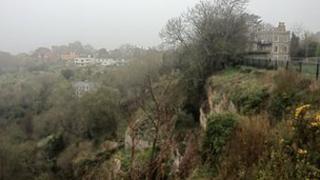 Assessment reports to prevent further rockfalls in Bristol's Avon Gorge have been given the go ahead.
Hundreds of tonnes of rock fell from the cliff on to Bridge Road and Seawalls Road in January.
Members of a working group set up by the council and the Downs Committee agreed "to do nothing" was not an option.
Estimated costs for the reports to assess the repairs come to £13,900.
The reports were requested following concerns after a small-scale rockfall at Bridge Road on 3 January.
This was followed by a more significant fall of up to 100 tonnes into private gardens at Seawalls Road on 24 January.
Following recommendations in reports by structural consultants Parsons Brinckerhoff, the Downs Committee agreed to undertake a laser scanning of the rock face at Bridge Road.
The pre-work reports also include a detailed inspection of the damage at Seawalls.
Bristol City Council said it thought costs to repair the actual damage would be "hundreds of thousands of pounds".
The findings of the pre-work assessment are expected to be discussed at the next committee meeting on 9 September.