Conygre House, in Filton 'to be used for community purposes'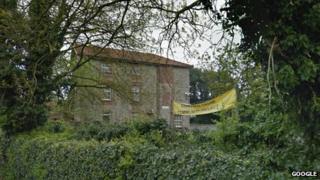 Campaigners have won a five-year battle to save a 400-year-old building in South Gloucestershire from development.
The sale of Conygre House, in Filton, was one of a number of property moves agreed by the council in 2005.
After it said it would sell for less than the market rate two bidders came forward, a developer and the Henleaze-based charity Network Counselling.
On Monday councillors agreed to sell the house to the charity so it could be used for the good of the community.
It follows representations by the Friends of Conygre House, which was set up in 2005 to help save the three-storey former farmhouse for the people of Filton.
Filton's oldest building
Network Counselling said it was confident it could find the £400,000 needed to bring the building back into use through a series of grants.
It is looking to run its operations at Conygre House while the rest of the building is opened up to become the centre of a range of community activities, with some room set aside for new firms to establish offices here.
It is also hoped the gardens will be kept open for public access.
Vice chairman Tony Blake said the building had been the centre of the community for as long as people could remember.
"To have seen it gone and just a plaque saying the oldest building in Filton used to be here would have broken the hearts of so many people here," he added.