Shrien Dewani spends days 'sat in camper van'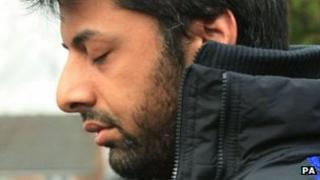 A honeymoon murder suspect spends much of his time sitting in a camper van in the grounds of a mental hospital, a court has heard.
Shrien Dewani faces extradition over charges he arranged his wife Anni's murder on honeymoon in South Africa.
Dr Ian Cumming told Westminster Magistrates' Court that Mr Dewani would receive mainstream mental health treatment if extradited.
Mr Dewani, who denies murder, has been excused from attending the hearing.
Dr Cumming, a psychiatrist, told the court he had visited South Africa and had been reassured Mr Dewani would be admitted to a general ward at Valkenberg Hospital in Cape Town - and not to a clinical unit where people are sent by the courts.
He said: "They were going to make an exception for Mr Dewani. He would probably be the first person that they would do that for."
Home visits
In a report after visiting the hospital in March this year, Dr Cumming said he had "no qualms about the quality of care".
He is currently receiving treatment at Blaise View mental health hospital near Bristol.
When he was transferred there in January, Mr Dewani said he felt much better there and described it as a "three star hotel".
In March, 24 tablets of the anti-anxiety drug Lorazepam were found in his room - his explanation for the hoard was because he wanted to control his own medication.
Dr Cumming said Mr Dewani told him he wanted to fight the murder case.
The psychiatrist told the court: "He said he didn't think about the case and said 'I'm right, I haven't done anything wrong, the truth will come out. I don't have anything to hide'."
Same position
But he added that Mr Dewani would not suddenly volunteer to go to South Africa.
He said: "I think that sometimes pushing patients on towards difficult things may be actually acting in their interests.
"It could well be that in six months or a year's time we have exactly the same position. There's something to be said for getting on with it."
He added: "Mr Dewani is not going to wake up one day and suddenly say 'I'm ready to do this'.
"I just don't think that's going to happen. I think he has got to be edged towards it, and I think the clinicians have a responsibility in that."
Dr Cumming said aside from time spent at the hospital, and inside a camper van in the car park, Mr Dewani was also allowed home visits.
He spends six hours at his Bristol home during the week and 12 hours at home at the weekend - unless he has a meeting with staff.
Although Mr Dewani is not fit to plead, Hugo Keith, QC for South Africa, said in court on Monday, that this should not stop the extradition process.
Anni Dewani, 28, was shot when a taxi the couple were travelling in was hijacked in a township on the outskirts of Cape Town in November 2010.
Suicide risk
Mr Dewani and driver Zola Tongo were ejected from the car before Mrs Dewani was driven away and killed.
Mr Dewani, 33, faces charges of murder, conspiracy to commit murder, robbery with aggravating circumstances and obstructing the administration of justice - all of which he denies.
His lawyers have previously claimed that he would be a high suicide risk if extradited and that his human rights could be violated, due to the risk of attack and sexual assault, in a South African prison.
However, reassurances have been offered by the South African government that, if Mr Dewani was found to be ill, he would be admitted to a mental health hospital or remanded in a single jail cell.
Last year South African Xolile Mngeni was convicted of premeditated murder for shooting Mrs Dewani.
Prosecutors claimed that he was a hitman hired by Mr Dewani to kill his new wife, something that Mr Dewani has consistently denied.
Tongo was jailed for 18 years after he admitted his part in the crime, and another accomplice, Mziwamadoda Qwabe, also pleaded guilty to charges over the murder and was handed a 25-year prison sentence.