Anni Dewani murder accused husband's extradition 'may be kind'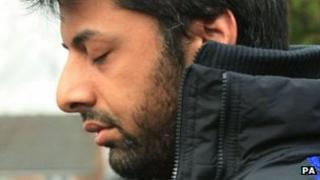 Extraditing a honeymoon murder suspect to South Africa could be a "kind thing", a court has been told.
Shrien Dewani is facing extradition after being accused of plotting to kill his wife, Anni Dewani, which he denies.
Speaking of more delays, psychiatrist Dr Ian Cumming said: "Actually, it may be a kind thing for him - to actually get on."
But his defence psychiatric expert has said his extradition may leave him in a worse state and unfit to stand trial.
Life-long symptoms
Speaking for the accused's defence, Prof Nigel Eastman said: "This was a man who had been extremely confident and successful who, almost at a stroke, in his terms, had lost everything.
"However that had come about, the loss of so much is an extremely depressing experience."
He added that it would be better to wait until Mr Dewani was in a "better clinical state".
"If he goes to South Africa and does not improve, he is at risk of being chronically ill and chronically unfit to plead," he said.
Prof Eastman accepted the unit in South Africa could care for Mr Dewani appropriately but argued it was a "gamble" to move him elsewhere in his current state.
He also believed Mr Dewani would always be haunted by the death of his wife.
"I don't believe this man will fully recover. He will be left with symptoms forever," added Prof Eastman.
Mr Dewani had been excused from attending the hearing.
Confidence in care
He is currently receiving treatment for depression and post-traumatic stress disorder, at Blaise View mental health hospital near Bristol.
Speaking at Westminster Magistrates' Court, Dr Cummings said: "It could be six months, then another six months, then on and on.
"It could make things worse and could be better to get on with it."
Dr Cummings told the court he had visited South Africa in March.
He said he felt reassured that Mr Dewani would be admitted to a general ward at Valkenberg Hospital in Cape Town and not to a unit where people are sent by the courts.
He added: "The receiving hospital there will prepare themselves very well. There will be exchange of information and reports and a handover.
"It is likely a nurse will accompany him from the UK to South Africa. I think they would make it as robust as possible.
"They would not stop whatever medication he is on - that would be bad practice and they would not do that."
Taxi hijacking
In 2011, Mr Dewani tried to take an overdose.
His lawyers argued he would be a high suicide risk if he returned to the country and his human rights would be breached due to the risk of being sexually or physically attacked in jail.
Newly-wed Mrs Dewani was shot when a taxi in which the couple were travelling in was hijacked in the Gugulethu township, Cape Town in November 2010.
Mr Dewani and driver Zola Tongo were ejected from the car before Mrs Dewani was driven away and killed.
Last year South African Xolile Mngeni was convicted of premeditated murder for shooting Mrs Dewani.
Prosecutors claimed that he was a hitman hired by Mr Dewani to kill his new wife, something that Mr Dewani has consistently denied.
Tongo was jailed for 18 years after he admitted his part in the crime, and another accomplice, Mziwamadoda Qwabe, also pleaded guilty to charges over the murder and was handed a 25-year prison sentence.