M32 lights between junctions two and three to be removed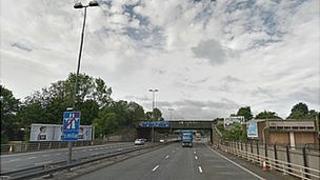 Motorway lighting is to be removed from a section of the M32, the Highways Agency has announced.
The stretch between junction two at Eastville and junction three at St Pauls will retain lighting at junctions and their approaches.
A total of 27 lighting columns which are more than 40-years-old and have "reached the end of their lives" will be taken down.
The agency said it will be monitoring the effects of removing the lighting.
Dave Sledge, from the Highways Agency, said: "We always review whether lighting should be replaced when it reaches the end of its life and under the guidelines, revised in 2007, there is no requirement for lighting on this section of the M32.
"We have already removed 28 lighting columns from the M32 since 2008.
"We have carefully studied the impact of removing these further 27 columns and concluded there is no justification for replacing them."
Work will commence on the removal of the lighting columns on 8 July and will require slip road and lane closures.