Bristol Downs classical stone footbridge proposed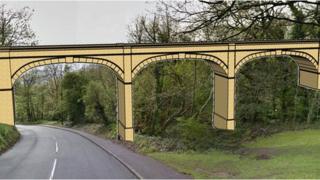 A classical stone footbridge has been proposed for Clifton Downs in Bristol.
The bridge would complete a missing link in the circular route around the Downs after it was identified that a safer crossing was needed.
The Friends of the Downs and Avon Gorge group (FODAG) asked a masonry arch bridge expert to come up with plans for the top of Bridge Valley Road.
A design with costings is expected to be shown to the Downs Committee in September.
'Pioneer project'
Masonry bridge engineer Dr Adrienn Tomor, based at the University of the West of England, said: "A stone bridge fits better into the environment and is aesthetically more pleasing.
"Bridges today are designed for about 100 years - but very often they'll have problems within 50 years. It's a very short sighted approach - building and rebuilding is very expensive.
"Masonry bridges last three or four hundred years and there are examples of Roman bridges which are 2,000 years old."
She added: "There are stonemasons who still know how to build them - but they are very few. If we do this it would be a pioneer project in Europe and could offer training opportunities for young people."
Dr Tomor said China was the only place she knew where masonry bridges were currently being built.
Jack Penrose of FODAG said: "We cannot say much at this stage as a presentation is first to be made to the Downs Committee in September."
He said the closure of Bridge Valley Road in 2010, for major engineering works, drew people's attention to the need for a safe pedestrian route across the road.
A crossing is also part of the wider Avon Gorge Management Plan proposals.
Peter Abraham from the Downs Committee said it supported the idea for a bridge, but there were concerns that it should only be for walkers and not cyclists.
He said: "The bridge is a nice idea but the concept needs looking at - it's a little bit over the top and perhaps needs a fresh look at what is right for the Downs."
An outline planning application is expected to be submitted to Bristol City Council in the next few months.