Stoke Gifford Heart of the Community project under way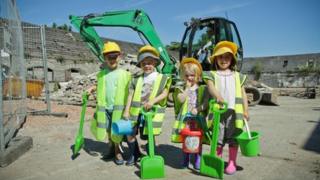 Work has started on a new church and community centre which are key parts of a £5.5m project in Bristol.
The St Michael's Church congregation, in Stoke Gifford, has already raised £2m towards the Heart of the Community project on the derelict Barns site.
A 600-seat auditorium and meeting rooms will be created, the 14th Century church renovated and Old School Rooms upgraded.
Work has now started to raise the remaining £3.5m needed.
Children from St Michael's Church Pre-school and Nursery donned hard hats and hi-vis jackets to watch work begin.
The church wants the new centre, which will be next to Bristol Parkway railway station, to be used as a resource by the wider region as well as local schools, charities and businesses.
Projects overseas
The Rev Simon Jones, Rector of St Michael's, said: "The local population is set to rise from 12,000 to 20,000 over the next 10 years.
"There is an increasing need for local amenities, particularly where the wider community can join together.
"St Michael's has a long history of serving the local community and beyond.
"This building is not just for the needs of the church today, but for the whole community, the wider region and also for future generations."
The church bought the site in 2006 and planning permission was granted four years later.
Plans were finalised and contractor Bray & Slaughter appointed earlier this year.
The initial £2m has been raised through one-off donations and pledges over the next five years.
The church has said that 10% of all money raised by the congregation will be used to fund similar projects overseas.