Bristol church finds 'good Christian home' for 10ft Jesus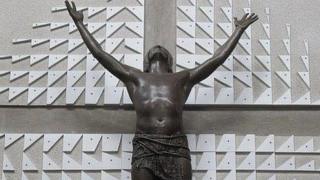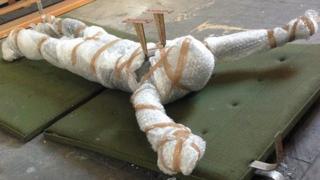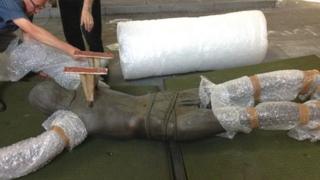 A "good Christian home" has been found for a 10ft (3m) tall statue of Jesus following a Bristol church's appeal.
St Augustine's Church was closed in 2007 and is due to be replaced by a new £800,000 church in the autumn.
A fibre glass statue of Christ by Ernest Pascoe is too large for the new building but following an appeal it is to be re-homed in a church in Kent.
The Reverend Nick Hay said: "Dozens emailed - including everything from a bicycle repair shop to a college."
The 5ft (1.5m) wide Christ in Glory statue with arms outstretched has hung behind the altar of St Augustine's since it opened in 1972.
'Impressive figure'
But following concerns it would be destroyed in the demolition of the church, the statue has been offered a new home at St Francis of Assisi Church in Strood.
"It means a lot to a lot of people so we just wanted to be a little bit picky about where it went," said Mr Hay.
"Obviously it is going to a church, and that's totally appropriate, and it's a 1960s church - a bit like the old St Augustine's Church was - and it [the statue] will fit in just right there."
On Tuesday, the 100kg (220lb) statue was taken down by contractors and collected from Bristol by the Reverend Howard Daubney in a hired van.
"It's a very impressive figure but it's very dirty," he admitted.
"The church in Bristol has been empty for years, been vandalised and set fire to - so there's smoke and accumulated dirt but hopefully it will polish up quite nicely.
"And what we're hoping to do is dedicate the statue during a service on 6 October to celebrate 50 years of our church building and invite the congregation from Bristol to take part."