Bristol student Daniel Smith graduates despite going blind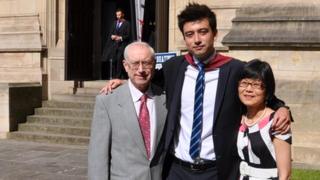 A University of Bristol student who was on the verge of quitting after losing his sight to a rare genetic condition has graduated.
Dan Smith, 22, had been preparing for his exams in 2011 when his near perfect eyesight deteriorated rapidly.
His twin brother Michael also lost his sight due to Leber's hereditary optic neuropathy, for which there is no known cure, and both now have 7% sight left.
Mr Smith graduated with a 2:1 in aeronautical engineering.
His brother earned a first class honours in geography from King's College in London and picks up his degree next week.
Leber's hereditary optic neuropathy is the loss of vision as a result of the death of cells in the optic nerve, causing it to stop relaying information from the eyes to the brain.
The condition has no known cause or cure, and is only thought to affect about 150 people in the UK.
Dan Smith had lost all of his central vision and can only see shadows in his periphery. He said it was "touch and go" whether he would carry on.
"For example I can see you're there [interviewing me]. I can see chairs next to you, but I can't tell who you are or what you look like".
Determined for his first two years of engineering not to go to waste, he sat down with 25 professors to brainstorm the best solution.
'Engineering student first'
"I was the first visually-impaired engineer to continue and graduate and it was as much a learning process for them as for me," he added.
"Everything I read now [on a computer] comes through an earpiece and I have a CCTV magnifier that enables me to read and write again.
"All of this software I'm very thankful for, because 10 years ago I would have had to have dropped out of university - and this has allowed me to graduate today.
"I've had a hard time but I've got lots to be thankful for. I'm not going to lie and say it isn't hard because it's bloody hard.
"Half the battle's up in the brain and adjusting your psyche to say 'I can do it'.
"Day to day is still a struggle. I still embarrass myself and that's very painful... I talk to people and I'm not sure who I'm talking to.
"It's very frustrating, there's no other emotion for it other than frustration but there's no anger."
Speaking before the ceremony his father, Steven, said he was proud Dan had "pulled it off".
"Dan's knuckled-down to it and with a lot of help from his friends and staff at the Uni," Mr Smith said.
"I'll probably be quite tearful when he goes up on stage. Me and [wife] Su Jan are very proud of him."