Winterbourne View: Most former patients out of hospital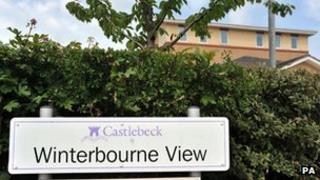 The majority of former patients at a private hospital where abuse was exposed have been moved to community-based homes, the BBC has learned.
Eleven care workers admitted a total of 38 charges after they were secretly filmed abusing and neglecting patients at Winterbourne View, near Bristol.
In May, two charities called for action for those still in institutional care.
Of the 48 patients from England, 34 are now in social care settings, NHS England said.
Care concerns
Fourteen remain in hospitals, according to the anonymised reports relating to the former patients. provided to NHS England by commissioners.
Mencap and the Challenging Behaviour Foundation has said it is continuing efforts to get the remaining patients moved closer to home.
Chief executive of Mencap Jan Tregelles said: "Mencap and the Challenging Behaviour Foundation continue to work with families whose loved ones remain hundreds of miles away in hospital, despite their on-going efforts to bring them closer to home.
"Winterbourne View is just the tip of the iceberg; we know that 1317 people in health settings have been put on registers by Clinical Commissioning Groups to have their care reviewed.
"However, we are deeply concerned that the registers only record a fraction of the people whose situations need to be scrutinised."
Ms Tregelles added that previous reports indicated about 3,500 people were living in health settings, including assessment and treatment units similar to Winterbourne View.
The NHS funds hospital care for 3,400 people with learning disabilities.
'Awful place'
Care minister Norman Lamb previously said all such hospital placements would be reviewed by 1 June 2013 as more appropriate care could be found for people closer to home.
All patients found to be inappropriately placed in hospital should be moved to community-based support as quickly as possible and no later than 1 June 2014, he said.
Mr Lamb added: "We need to ensure that each individual receives the care and support that is right for them.
"As far as that particular group of people who were at Winterbourne View, we are carrying out audits to find out what's happened to them to ensure they are being treated properly after a really pretty traumatic experience in that awful place."
He added that efforts were also being made to prevent abuse in the future.
He said: "We're introducing in effect the right to prosecute for corporate neglect and also to introduce a fit and proper person test so that people who go onto the board of a care or health provider have to be a fit and proper person for that purpose."