Airport 'rat-run' to close in August for water works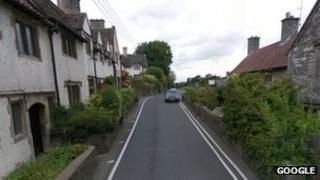 A busy commuter route from the A370 to Bristol Airport will close for nearly four months as part of "essential" water works, it has been announced.
Bristol Water is digging up the B3130 through Barrow Gurney as part of the Chelvey to Barrow renovation scheme.
The works are part of a £22m project to renovate 37 miles (60km) of water mains in the area over the next three years.
Barrow Street will shut to traffic from 1 August until 29 November. Access for residents and businesses will continue.
Bristol Water said it has written to all affected homeowners and signage has been put up onsite.
It said the work was needed to "improve water quality and ensure the security of water supply for the future".
'Unnoticeable interruption'
Until now, the road has been kept open using traffic lights but the company said work had progressed "as far as possible" using the current system.
A Bristol Water spokesman apologised for any inconvenience and said there would be "minimal, typically unnoticeable interruption to customer supply" whilst the main was being renovated.
It was announced in May that the road would be closed for the entire six-month scheme, however that decision was reversed by North Somerset Council in June.
Despite the council U-turn, a Bristol Water spokesman did acknowledge that the road would need to be closed at some point when "there is insufficient working width available for work to be carried out safely".
The Chelvey to Barrow project involves renovating two water mains connecting Barrow Treatment Works to Chelvey. The two-part project began in July 2012.