Whiteladies Picture House bar and cellar to be taken over by restaurant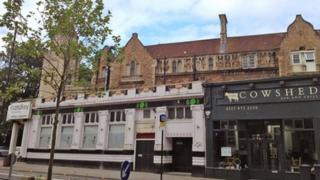 Plans to reopen a derelict Bristol cinema have suffered a setback with a restaurant being given permission to expand into its bar and cellar.
The Whiteladies Picture House closed in 2001 and has remained unused since.
Two campaign groups want the whole building returned to its former glory, with one supporting a private bid.
But at a meeting earlier, councillors approved plans for the neighbouring Cowshed restaurant to refurbish the picture house's bar and cellar.
A spokeswoman for the building's owner, London-based Medinbrand, said the restaurant expansion was the first step in the regeneration of the building and it would not deter other operators from investing in the property.
"We are in exciting discussions with cinema operators who want to bring the former picture house back into use.
"They are very happy to work alongside a successful restaurant that will enhance and support any future cinema on Whiteladies Road," she added.
Businessman Ian Wiper said for his plan he needed to acquire the whole of the listed building to convert it into a single-screen cinema and a multi-purpose venue, which he has claimed could be open by autumn 2014.
And rival bidder the Whiteladies Picture House group had said it wanted to turn the venue into a community cinema and arts centre.
It has recently raised more than £11,500 via Kickstarter to fund a survey of the Grade II-listed building to help understand its history and how it had been used in the past.
'Seems hasty'
Hattie Appleby, from campaign group Keep Cinema Local, said she believed there were "valid legal reasons" why councillors should have turned down the restaurant expansion proposal.
"I really can't see the justification for tampering with the boundary wall of a listed building," she said.
"It just seems hasty - how can you isolate bits of this listed building off in this way?"
But Adam Denton, the restaurant owner, said he was "overwhelmed that it's been done".
"I'd love it to be a cinema but let's not forget it's been a separated building since the 1960s and a pub and it's also been closed for the best part of two years and it's rotting," he said.