Shrien Dewani: Wife's family 'need answers'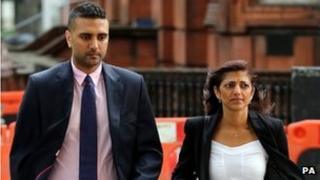 The family of a bride killed on her honeymoon have said they need answers from the "only" man able to give them.
Murder suspect Shrien Dewani is accused of plotting to kill his wife, Anni, in South Africa in November 2010.
Mr Dewani, from Bristol, denies any involvement in his wife's murder. His defence team said his extradition may leave him unfit to stand trial.
Mrs Dewani's family said the legal process was all they could think about and has left them unable to grieve.
Anni Dewani was shot in Cape Town in November 2010 when a taxi in she was travelling in with her new husband was hijacked.
Mr Dewani and driver Zola Tongo were ejected from the car before she was driven away and killed.
Last year, South African Xolile Mngeni was convicted of premeditated murder.
Prosecutors claimed he was a hitman hired by Mr Dewani to kill his wife, something he has consistently denied.
Tongo was jailed for 18 years after he admitted his part and another accomplice, Mziwamadoda Qwabe, was jailed for 25 years after pleading guilty to charges over the murder.
Ami Denborg, Mrs Dewani's older sister, said: "I feel really sad about the fact that this [Shrien's extradition] still hasn't happened because I'm still searching for the answers to my questions.
"It's the whole situation of what happened, how it happened and why it happened.
"Shrien is the only one who can give the answers and for him to give the answers, there needs to be a trial in South Africa."
Mrs Dewani's family, who are from Sweden, travelled to London for the four-day hearing at Westminster Magistrates' Court earlier this month.
'Want to grieve'
Mrs Denborg said the legal process, which has been going on for over two years, has taken its toll on the whole family.
"It's been devastating for my parents," she said.
"They are coping and the days are going by, but all they think about is Anni."
Her brother, Anish Hindocha, 24, added: "Every day you are just thinking about the case, it's very hard to focus on anything else.
"We want to grieve but it feels like we have too many questions we need to get answered."
Mr Dewani, a 33-year-old former businessman, has been diagnosed with post-traumatic stress disorder and depression and is receiving treatment at a hospital near Bristol.
He was ordered to return to South Africa in 2011, but that was successfully appealed against.
Judges then ordered the chief magistrate to look at the case again.
"Shrien has always stated that he wants to clear his name, that he is innocent, and so he should go there [South Africa]," Mr Hindocha said.
"He should go for himself and for his family, for everybody, he should tell us what happened. His side of the story."
'Unfit for trial'
Prosecutors claim it would not be "oppressive" to extradite the businessman for trial and there has been a "significant and sustained improvement" in his mental health in recent months.
Hugo Keith QC, for the South African government, admitted that Mr Dewani is currently not fit to plead, but argued that this should not stop the extradition process.
Mr Dewani's defence team said extradition may leave him in a worse state and unfit to stand trial.
Speaking for the accused's defence, Prof Nigel Eastman, a psychiatric expert, said: "If he goes now, he will be in a poorer state than if he goes in six months' time.
"If he goes to South Africa and does not improve, he is at risk of being chronically ill and chronically unfit to plead."
It emerged during the hearing that while resident at Fromeside and Blaise View mental health units, Mr Dewani was allowed to walk home every day and a camper van was set up in the grounds where he would spend long periods of time.