Bristol's 20mph zone rollout: Call for a rethink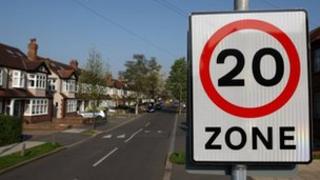 Rolling out a city-wide 20mph limit in Bristol will increase congestion and pollution, opposition politicians say.
The decision to introduce 20mph zones was taken by Bristol City Council in July last year and will be rolled out across the city by 2015.
Mayor George Ferguson believes the move will improve traffic flow and road safety.
Conservative councillor Mark Weston is calling on the elected independent mayor to rethink his plans.
'Long-term aspiration'
"Mayor Ferguson has inherited an anti-car platform from the previous Lib Dem administration and just decided to run with it," he said.
"So far he's shown unwillingness to alter those plans and I'm going to urge him at cabinet to think again.
"I don't think 20mph is the right speed for a thriving modern city - it will increase travel times, increase congestion and might actually reduce air quality," Mr Weston added.
Assistant mayor, councillor Mark Bradshaw, said the 20mph zones were "all about safety".
"This has been a long-term aspiration for successive administrations [and] also a genuine public consultation.
"It's about redressing the balance in the city... to make streets and neighbourhoods safer for all including drivers," he added.
Mayor George Ferguson added on Twitter he "could not ignore the evidence" over increased safety on slower roads.