Bristol Harbour Festival expected to attract 250,000 people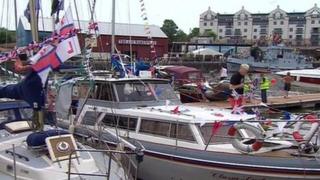 Over 250,000 people are expected to descend on Bristol for the city's 42nd harbour festival this weekend.
The event, which is said to be one of the UK's largest public festivals, attracted more than 300,000 people over its three days in 2012.
The 2013 event will run from 26 to 28 July along a two-mile (3.21km) stretch of Bristol's waterfront.
The Saturday night fireworks, cancelled for the last two years, are due to return this year at 22:00 BST.
Other highlights include live music, a children's area with a 30ft (9m) pirate ship and promenade theatre, and a circus stage.
Earlier this year it was announced that Richmond Event Management would run the event from 2013 to 2015.
The festival was established in 1971 when it was known as the Water Festival.
It celebrates Bristol's heritage, the city centre harbour and waterfront areas as well as its artistic community and green credentials.