Bristol Jamia Mosque concerned about residents' parking zone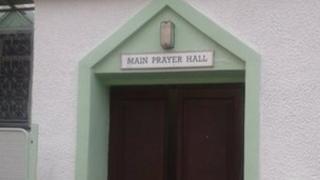 People using a mosque in Bristol have said a possible residents' parking scheme could risk its future as a place of worship for the Muslim community.
Bristol Jamia Mosque, in Totterdown, is in one of 18 parking zones identified by the mayor. Plans for eight of the zones are on hold after criticism.
Mosque chairperson Wazir Ali said people used the mosque throughout the day, all week and needed free parking.
Mayor George Ferguson said he wanted the scheme to suit local needs.
Mr Ali said people came to the mosque about seven times a day. He said he was also concerned elderly and disabled people needed to be able to park close by.
He said: "Parents need to be able to drop off their children - plus there's Ramadan, Friday prayers, funerals and functions. This is impossible for us - a mosque without parking facilities.
"The mosque is run purely on donations - if people don't come for prayers then they're not going to donate any money.
"This mosque was established in 1968, from 1968 we've had no problem with parking or with the local residents."
He said there was "a huge protest against the scheme" and added that they had organised a petition which had attracted 350 signatures in just one day.
Mayor Ferguson said he had met Mr Ali and other members of the mosque.
He said: "I think they have a special and understandable concern because they worship during the week and in the middle of the day - especially during Ramadan.
"The challenge is how do you distinguish between those who really need that consideration and those who claim to?
"The officers are going to be sensitive to making special consideration. It's a matter of tailoring to local needs."
At present the Residents' Parking Zone (RPZ) operates in Kingsdown, Cotham and central areas of the city.
The mayor had originally proposed a blanket roll out of 18 further zones across Bristol within the next 18 months but these plans were changed last month.
Eight of the schemes in the outer areas - including Totterdown - have now been put on hold until the effects of the inner schemes are known.