Bristol Harbour Festival is 'busy but relaxed'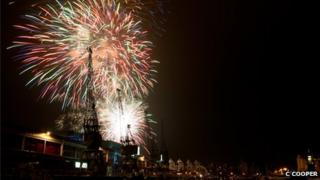 More than 200 boats have attended Bristol's 42nd harbour festival.
The event, said to be one of the UK's largest public festivals, stretches over two miles of the city's waterfront.
Organiser Mike Richmond said: "The atmosphere on Saturday was busy but relaxed with lots of interest in the new water activity programme."
The fireworks, which have been cancelled for the past two years, went ahead despite rain.
Mr Richmond said there had been a "big turnout" for the opening concert on Friday but could not yet give an exact figure.
He said: "In spite of the rain [on Saturday], the spirit of Bristol shone through in Queen Square with people dancing to RSVP and Pigbag before the grand fireworks finale.
"We're looking forward to another fantastic afternoon at the festival."
There were problems at the M Shed Museum on Saturday, which had to close in the afternoon because it had no running water.
The event attracted more than 300,000 people in 2012.