Bristol Harbour Festival attracts about 250,000 people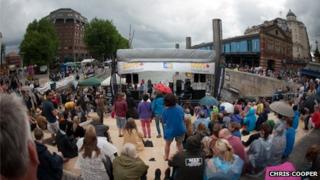 Bristol's Harbour Festival attracted about 250,000 visitors over the weekend, organisers confirmed.
The three-day event along the two-mile stretch of the Bristol waterfront saw more than 200 boats taking part.
Festival organiser Mike Richmond said: "People had obviously done their homework and worked out that Saturday would be inclement. Yesterday [Sunday] was one of the busiest I've seen."
In 2012, the event recorded its highest ever attendance of more than 300,000.
The event is in its 42nd year and is said to be one of the largest public festivals in the UK.
This year's highlights included an outdoor concert on Friday evening in Queen's Square and a fireworks display the following night.