Bristol mayor tackles life expectancy 'gap'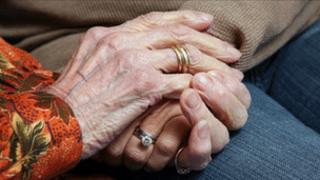 Bristol's elected mayor has said he wants to halve the nine-year difference in average life expectancy for people living in different parts of the city.
Average life expectancy in the Henleaze ward is much longer than it is in the neighbouring, less affluent Southmead ward, according to the NHS.
George Ferguson thinks people's health could be improved by providing better housing, transport and education.
He said the age difference between the areas was "a disgrace".
A recent report from the Institute of Health Equity, which is supported by the British Medical Association, says more needs to be done to reduce the health divide between rich and poor.
Health Secretary Jeremy Hunt has described the variations in life expectancy among people from different socio-economic backgrounds as "shocking".
Ed Jessop, Vice President of the Faculty of Public Health, said there are many "complex reasons" for the problem.
"Because our health is affected by a range of factors - not just what we eat or drink, and how active we are, but also our work, housing and access to all sorts of facilities," he added.
Congestion charge
Figures from the NHS show people in Southmead are expected to live until they are, on average, 75 years and seven months old, while people in Henleaze have an average life expectancy of 85.
Mr Ferguson said the introduction of low emission zones and a possible congestion charge in the city could also help to achieve his goal.
He said: "Whether you're looking at transport, better housing, education - they all contribute to reducing that life expectancy differential, which I think is disgraceful at the current levels.
"It's not so much about the length of people's lives, it's about the quality of them. It's about health rather than longevity."
Mr Ferguson said he wanted to try to halve the current gap within a generation.
He said: "I'm not trying to get down to zero. You've got to aim for zero, but if you can get half way there that will make a massive difference to people's lives."
He said he has applied to the government for about £25,000 of funding to pay for a feasibility study into a low emission zone.