Bristol wins £500k for electric car charge points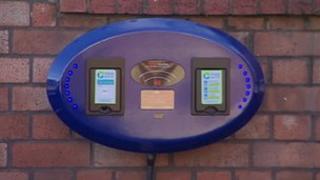 Bristol City Council has been awarded more than £500,000 to increase the number of rapid electric car charging points in the city.
Bristol will get £225,000 from the Department for Transport (DfE) this year, with £337,500, the year after.
In the second half of 2012 there were just 14 users of the 36 council charging points, a recent Freedom of Information request revealed.
The units, which give some cars a full charge in 30 minutes, cost £20,000.
The grant funding is part of a £37m pot the Department for Transport is giving to councils, hospitals and railway operators over the next three years.
Infrastructure first
"It's future-proofing the city to a time when more businesses can use the vehicles," said Bristol City Councillor Mark Bradshaw, the cabinet member for transport.
"There's still a limited range of electric vehicles on the market so for the consumer they are reasonably expensive, but there's likely to be a wider range of more affordable vehicles in the future."
Transport Minister Norman Baker said the UK recognised the importance of getting into electric car manufacturing early to reap future benefits.
"We're first in game, so motor manufacturers are investing heavily in the country, and it's the right move environmentally as electric cars are carbon free at the point of use," said Mr Baker.
"One of the drawbacks for people is the absence of charging points - there has to be the infrastructure first so the DfE is identifying where the gaps may be."
Drivers using the charging units pay the normal parking charge with the electricity supplied at no extra cost, as long as they sign up to provide basic details of their electricity usage four times a year.
Other non-council electric charging points are available across Bristol - a mixture of free and paid-for.
Elsewhere in the west, Cotswold District Council has been awarded £75,000 and Wiltshire Council £225,000 to install the units.